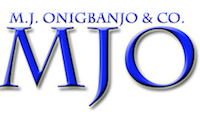 Percival is a competent hands-on solicitor with significant transactional experience. His passion for completeness and perfection makes him the perfect professional. He has been engaged in many domestic and international financing related transactions. His commitment to exceeding clients' expectations, and the assurance of success in any transaction with which he is identified places him above the ordinary solicitor of his ilk. His continued quest to always exceed clients' expectations is a quality, which endears him to clients and professional colleagues on the other side of the table.
His wealth of professional experience spans over two decades having been called to the Nigerian Bar in 1990. He also obtained his LL.B (Hons.) from the Bendel State University, Ekpoma (now Ambrose Alli University in 1989).
Upon being called to the Nigerian Bar in 1990, Percival worked as an associate in the law firm of Kola Awodein & Co. between 1992 and 1994, from where he dexterously set up his own practice Percival Oaiya & Co. which he stirred successfully as principal partner between 1994 – 2007. In 2007 he teamed up with the Firm of M.J Onigbanjo & Co where he has been the partner in charge of the Property and Real Estate arm of the firm till date.
His practice specialty covers Property and Real Estate, Banking and Corporate Finance, Oil and Gas, Energy Law Advisory, Company Secretarial with over 100 companies registered with foreign participation.
Mr. Percival Oaiya is a member of both the Nigerian Bar Association and the International Bar Association.